If you have a family member that is seriously ill with COVID-19 symptoms, or if you have lost a family member or loved one from COVID-19, you do not have to weather this storm alone. This virtual Family Assistance Center is here to support you and your family. This virtual resource center can connect you to helpful information about dealing with dealing with COVID-19 illness and COVID-19 related grief and loss. It can also put you in touch with caring, local professionals who are available to offer you support and assistance. It is our hope that this information and assistance will offer you some helpful ways to navigate this most difficult experience.
 
---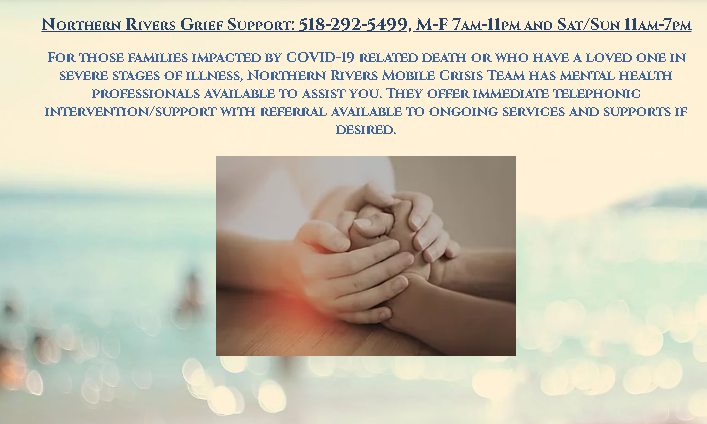 ---
Helpful Links for managing grief and loss:
Grief and Loss During Covid-19
Living with Grief from Covid-19 "a resource assembled by Gerald Florio, Ph.D., Clinical Health Psychologist, C.R. Wood Cancer Center, Glens Falls Hospital."
---
Additional Resources
High Peaks Hospice, 454 Glen St., Glens Falls, NY
518-891-0606
www.highpeakshospice.org
Office of Community Services for Warren and Washington Counties
230 Maple St., Glens Falls, NY 518-792-7143
NYS Office of Mental Health Emotional Support Line
1-844-863-9314 (toll free)
https://omh.ny.gov/omhweb/covid-19-resources.html
www.headspace.com\ny - Online Wellness/Mindfullness Resource
National Suicide Prevention Hotline
1-800-273-TALK (8255)