Warren County was one of the first in New York to create its own highway department under state legislation adopted in 1909. Bertram E. Murray, born in Warrensburg, was appointed superintendent on April 7, 1909. His father was postmaster of Warrensburg, and Bert was first educated there. A licensed engineer, he attended college at Cornell and Syracuse, and was thereafter associated with the State Division of Highways. Prior to his county appointment, he was engineer on construction of the first state highway linking Glens Falls, Lake George and Bolton Landing. 
From the 1909 Proceedings of the Board of Supervisors, p. 48, one finds the first annual report of Bertram E. Murray, County Superintendent of Highways, noting these improvements during the year:
Road No. 656, Glens Falls-Sandy Hill - Building of new concrete retaining wall in front of Imperial Wall Paper Company's plant to replace the rip-rap wall which fell down early this spring.
Road No. 417, Glens Falls-Lake George - General repairs, such as cleaning off loose stone and resurfacing with loam. Resurfacing and oiling the road the entire length. Lyon Mt. screenings were used for top dressing and all holes and ruts filled with 3/4-inch stone.
Road No. 418, Lake George-Bolton - Clearing off loose stone and resurfacing with screening and loam where top course was badly worn.
Road No. 691, Riverside-Chestertown - Repairing concrete culvert, and general clearing of the road-bed, such as raking off the loose stone and resurfacing the worn places with loam and stone. The ditches and waterways were opened by the local Town Superintendent during the spring, but are now taken care of by patrolmen who are paid by the Highway Commissioners. 
Bert Murray became a recognized leader in the field of civil engineering. At his death, The Glens Falls Times noted that he made the County Highway Department an important bureau for the building and maintenance of highways and bridges and for the removal of snow, regardless of weather conditions. "An indefatigable worker, Mr. Murray was never daunted by obstacles. He created the splendid county highway system, supplementing the state highways and making it possible to reach most parts of the county in a minimum of time. The system which he created has often been taken as a model for the building of department by other counties. By his careful scrutiny of plans for county and state highway construction he saved the county many thousands of dollars in rights of way and construction costs."
The newspaper recalled: "So strict was Mr. Murray in the operation of his department that neither he nor his projects were ever touched by the breath of scandal. When engaging employees or purchasing equipment and supplies, his chief concern was the protection of the people of Warren, who had to meet the cost."
Superintendent Murray had the constant task of keeping the department's machinery - trucks, snowplows, tractors, sanding devices, power shovels and other equipment - in good repair. At the county storehouse at Warrensburg, the scene often resembled a busy garage as expert mechanics under his direction made repairs and devised new uses for standard equipment.
The original Highway Department building was on Main St. in downtown Warrensburg, today the site of the Upstate Insurance Agency offices. Bert Murray was largely responsible for subsequent construction in 1938 of the present county Highway Department complex further north on Main St. The Bertram E. Murray Memorial Bridge connects the Towns of Bolton and Warrensburg over the Schroon River at Riverbank. The last of many bridges planned and supervised by Mr. Murray, it was the largest ever built by Warren County when it was dedicated in 1940.
Mr. Murray was a charter member of the Association of County Superintendents of Highways, which is celebrating its 100th anniversary this year. He was active with other engineering groups, was also a member of the Board of Managers of Westmount Sanitorium, and was said to have been an enthusiastic figure in all local civic activities. After an illness of more than a year, Superintendent Murray died at his home in Warrensburg on December 11, 1939, survived by his widow, the former Adele Wheeler of Ballston Spa.
We salute the Warren County Department of Public Works, in honor of its 100th anniversary, with this continuing display of historic photographs.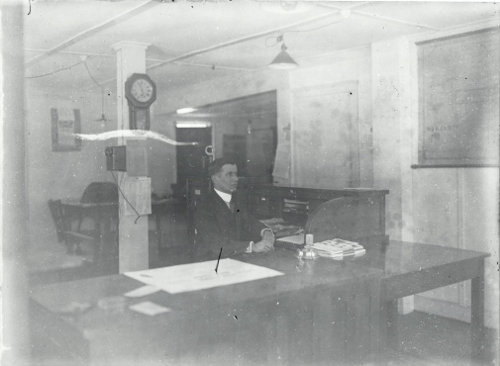 Seated at his desk in the old Highway Department building in Warrensburg is Superintendent Bertram E. Murray. The photo is thought to have been taken in the 1920s.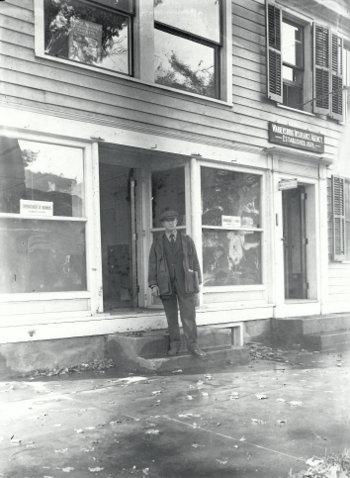 The Warren County Highway Department shared its first building on Main St. in downtown Warrensburg with the Warrensburg Insurance Agency.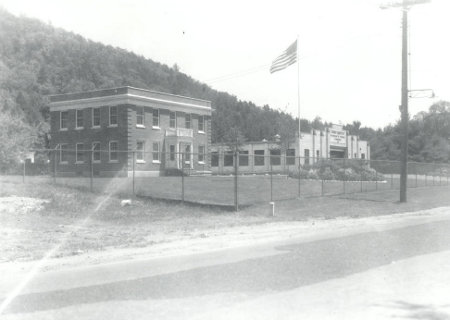 Built in 1938 during the administration of Highway Superintendent Bertram E. Murray was the new office building and storehouse on Route 9, north of Warrensburg, still in operation today.