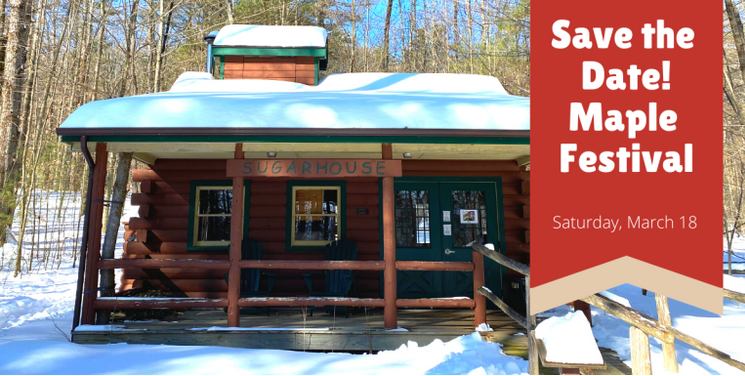 Up Yonda Farm in Bolton to host Maple Festival on March 18
BOLTON, NY – Maple season has arrived and Warren County's Up Yonda Farm Environmental Education Center on Route 9N in Bolton will celebrate the sweet season by holding its third annual Maple Festival on March 18, 2023!
During Maple Festival, Up Yonda staff Naturalists will lead tours of the property's sugarbush and sugar house, going through different stations to explain the history and science of maple sugaring and ending with a taste of fresh maple syrup on French toast stick dippers!
This program is fun for all ages and great for families! Each interactive tour is about an hour long, and moves from station to station showing visitors the sugaring process --  how to tap a tree, how to boil sap and make syrup and how sugaring has changed over time. Participants will get to try some hands-on activities along the way and smell the maple sap as it boils down.
Tours start every 20 minutes from 10 a.m.-11:40 a.m. and 1 p.m.-2:40.p.m. on Saturday, March 18. Reservations may be made online at www.upyondafarm.com. Tickets are $5 per person, and there is a $5 per vehicle day use parking fee, with proceeds used to support Up Yonda's operations as an environmental education center. This program has been very popular so make reservations early!
In addition, Up Yonda staff can run maple programs for Scouts and school groups on additional days in March. Those who are interested should contact Up Yonda Farm staff at 518-644-9767 for more information.
About Up Yonda Farm
Up Yonda Farm is owned and operated by Warren County. It was donated to Warren County in 1997 by Alice and John Scott and has been running programs for schools and families since then. After you check out our Maple Festival this spring, please visit our natural history museum and our turtles in the Welcome Center! You can also come back later to snowshoe in the winter and explore our pond, Children's Sensory Garden and live butterfly exhibit during the spring and summer. And don't forget our hiking trails with fabulous views of Lake George!