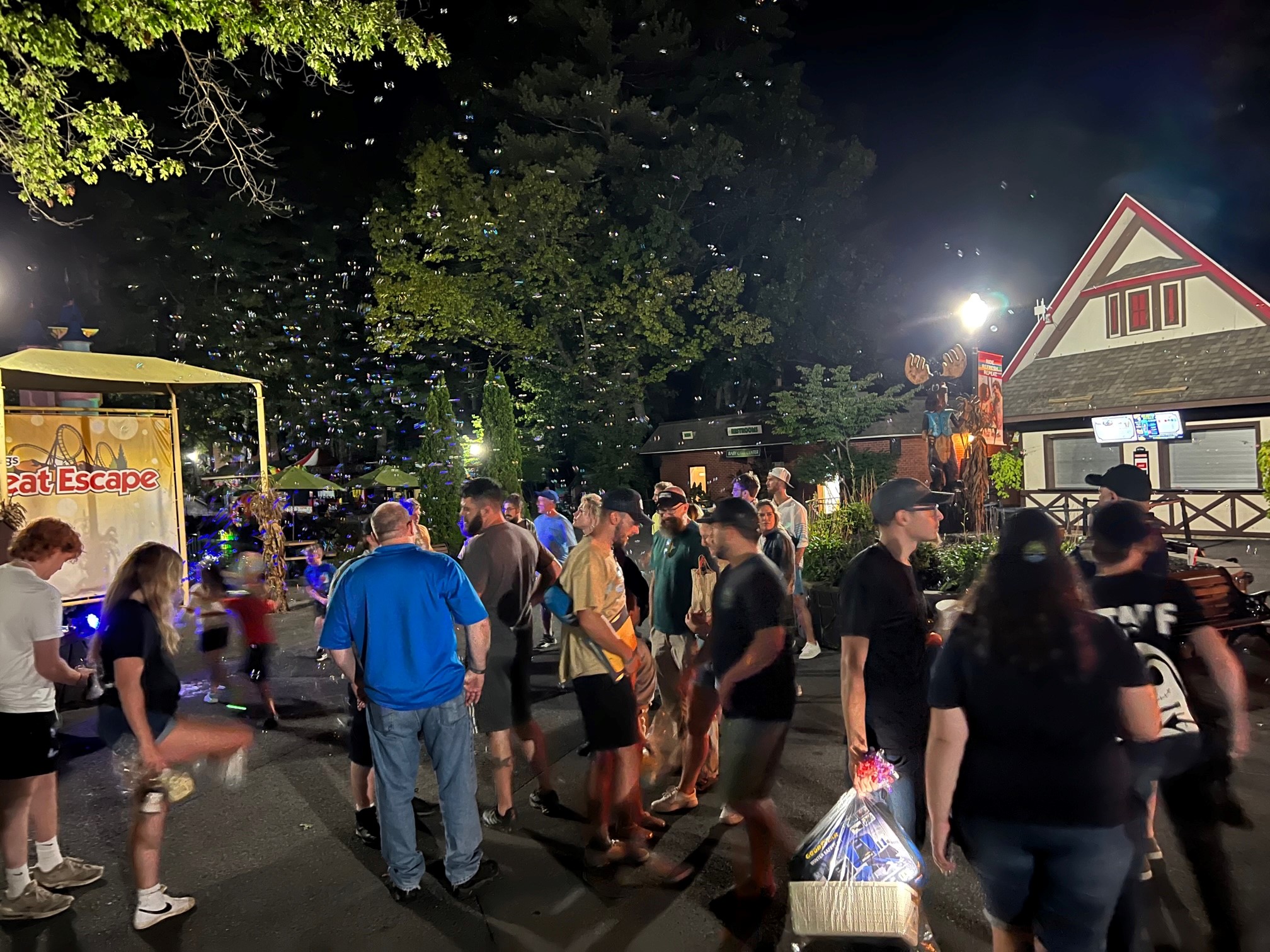 Hundreds of Warren County workers celebrate success of tourism season
Annual event is a thank you to employees for their efforts
Hospitality and retail workers from around Warren County were celebrated Tuesday, September 12th with a free night at Six Flags Great Escape amusement park that included prizes, rides, food and even a pie-eating contest!
More than 300 local workers and their supervisors, representing 82 businesses, gathered for the second annual event that was held to say "thank you" to the employees who helped local businesses get through another busy summer.
The event was organized by Warren County Department of Workforce Development and Six Flags Great Escape to reward the people that serve as the backbone of our tourism and retail industries.
Thousands of dollars in restaurant, retail and lodging gift cards and free tickets to local attractions were handed out to attendees as part of the event. Two workers also won overnight stays, compliments of The Inn at Erlowest and Lake George Escape Campground.  In addition, workers who were nominated by their supervisors for going above and beyond were honored with certificates for their skills, energy and expertise, ranging from Excellence in Customer Service to Team Spirit and Sales Extraordinaire.
Tony Grecco, General Manager of The Log Jam restaurant, was chosen as the recipient of the first-ever Frank Dittrich Award, given to a tourism industry leader who is committed to employee development, dedicated to improving lives and conditions for workers and embodies a cooperative spirit. The award was named for Dittrich, the late general manager of The Inn at Erlowest and tireless regional hospitality advocate, who passed away in December 2022.
Said Liza Ochsendorf, Warren County Director of Workforce Development: "We love this tradition of celebrating our summer workforce and we're so grateful for the partnership we have with Six Flags and all of the local businesses who donated thousands of dollars' worth of prizes to go to our hospitality and tourism workforce."   
Said Rebecca Wood, President of Six Flags Great Escape: "We are so grateful to be a part of what is now a meaningful tradition to end the season. Our people deserve some time to have fun, reflect and enjoy the recognition. We look forward to next year already." 
The event was free for tourism industry workers, and each attendee could bring a friend for $5, with the proceeds from ticket, Skycoaster and game sales going to Wait House of Glens Falls. Just under $800 was raised for Wait House for use to purchase supplies for their youth residents.
Attendance at Tuesday's event grew by nearly 50 percent from the inaugral celebration in 2022.
Dane Morton, owner of Adirondack Adventure Center in Lake Luzerne, noted: "It was great to see my employees out there having a good time together and blowing off some steam after a long season. It was also nice to be able to interact with some of the other businesses in the area and have some friendly competition at the pie eating contest!"
Mark your calendars for the Summer Workforce Celebration in 2024, as the event will become a fixture during the week following Adirondack Nationals Car Show.