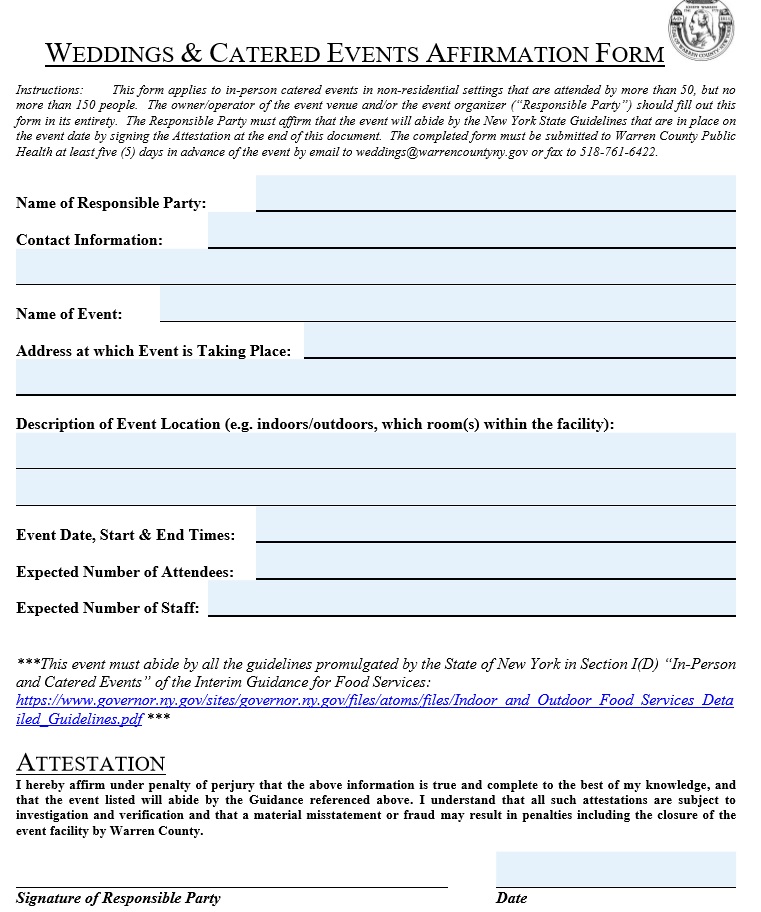 New York State and Warren County have new guidance for weddings and catered events that take effect on or after March 15, when New York State will allow up to 150 people to attend these events.
New York State's updated guidelines can be found here: on.ny.gov/3aSZcc3.
Warren County's local guidance is posted on the Warren County COVID Hub website here: http://bit.ly/3pUS7M8.
Warren County will require the owner/operator of the event venue and/or the event organizer to complete a registration form and submit it to Warren County Health Services at least five (5) days before the event. That form is attached here and available for download on the Warren County COVID Hub website.
New York State guidance spells out COVID-19 testing requirements as follows: "For any event conducted pursuant to this guidance, Responsible Parties must require and ensure all attendees have received a negative diagnostic test result for COVID-19 using a Food and Drug Administration (FDA) authorized polymerase chain reaction (PCR) or other nucleic acid amplification test (NAATs) of comparable analytical sensitivity performance that was performed on a specimen (e.g., swab) collected within 72 hours of the event start time. Responsible Parties may also accept negative test results for COVID19 from a FDA authorized antigen test performed on a specimen collected within 6 hours of the event start time. All attendees must present proof of the negative diagnostic test result (e.g., mobile application, paper form) to designated employees or event staff prior to, or immediately upon, arrival to the event."
Arrangement of COVID tests will be the responsibility of the person deemed the responsible party for the event. Warren County does not have the testing capacity to perform this testing.
As specified by New York State guidelines, Warren County Health Services reserves the right to conduct inspections if deemed necessary.
"We are very happy that families will be able to share their milestone moments with more of their loved ones," Warren County Health Services Director Ginelle Jones said. "We have taken New York State's guidance and created an easy procedure that will allow organizers and venues to hold their events safely with minimal requirements."
Those seeking more information can email weddings@warrencountyny.gov or call 518-761-6580.