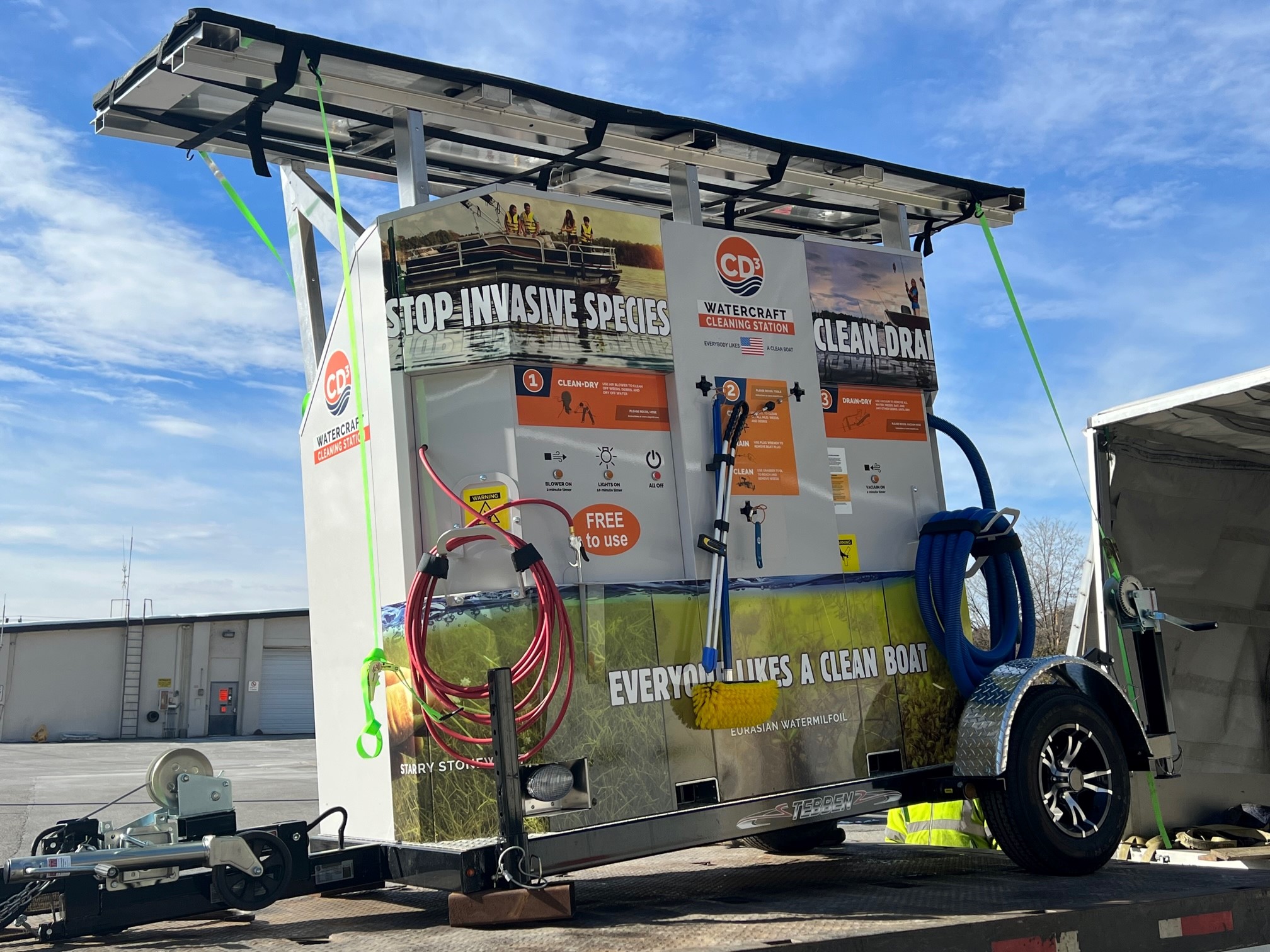 New tool to fight invasive species is ready for use in Schroon Lake watershed
Mobile boat cleaning station will be available during all hours at boat launches
SCHROON LAKE, NY -- A new weapon will be used to prevent invasive species from getting into Schroon Lake during the 2023 boating season thanks to a collaborative effort between Warren County and a number of public and private partners.
A self-serve, mobile boat cleaning unit was delivered to Warren County earlier this year to be used at boat launches in the Schroon Lake watershed starting later this spring. Warren County Department of Planning & Community Development received grant funding through the NY Environmental Protection Fund and NY Department of State Local Waterfront Revitalization Program for the $40,000 piece of equipment, which will be rotated around boat launches in the watershed in Warren and Essex counties.
The solar-powered CD3 Cleaning System equipment will be free to use, and will allow those who are launching or removing watercraft from Schroon Lake to clean boats through a waterless process.
The equipment was purchased as part of the Schroon Watershed Aquatic Invasives Program, which combines the forces of volunteer lake associations such as Schroon Lake Association and East Schroon Lake Association, Adirondack Park Invasive Plant Program and towns around Schroon Lake (Chester, Horicon and Schroon) under the auspices of Warren County Planning and Community Development and New York Department of Environmental Conservation.
The wash station's CD3 moniker stands for "Clean, Drain, Dry and Dispose," because the system provides a cleaning infrastructure for boaters to clean their boats and trailers on their own. The standalone unit offers a suite of self-service resources, including an air blower, wet-dry vacuum, hand tools, and lights to help boaters remove, then dispose of, water, weeds, and debris — including leftover fishing bait.
CD3 stations also serve as educational kiosks, and even allows boaters to check-in and out of bodies of water. In addition, they can collect essential data for communities and indicate when invasive species are detected, to aid in aquatic invasive species (AIS) management and mitigation.
Roger Friedman, Vice President of Schroon Lake Association, said: "Since 1911, the mission of the Schroon Lake Association has been to protect Schroon Lake. Throughout the Adirondacks, lake associations along with their many partners, are the frontline protectors of our lakes, ponds and rivers. Public awareness and action are the keys to preventing the spread of invasive hitchhikers into the Adirondack Park. This is where the CD3 machine hopefully will play a key role. Although it is not a decontamination machine (it does not work on high water pressure at 140 degrees), it will be a visible and tangible unit to promote boater education, help prevent the spread of aquatic invasive species and underscore the importance of "Clean, Drain and Dry" for recreational boats.  Kudos to the Warren County Planning Department for thinking 'outside the box' in assisting the Schroon Lake Watershed."
Brian Greene, Aquatic Invasive Species Coordinator for Adirondack Park Invasive Plant Program, said: "Preventing aquatic invasive species is the most important step that boaters and anglers can do to protect our lakes. It is critical that everyone practices Clean, Drain, Dry so we don't move invasive species around. Fortunately in the Adirondacks we have programs like the Adirondack Watershed Institute boat stewards. Adding infrastructure like the CD3 systems allows boaters to Clean, Drain, Dry at times or days when there are no stewards working and should increase the public's ability to be active partners in protecting Schroon Lake and practicing Clean, Drain, Dry."
Ethan Gaddy, Warren County Planner, said: "Protecting the quality of our waterways is critically important to our region's environment, economy, and quality of life. This project implements elements of the Schroon Lake Watershed Management Plan from 2019, which identifies the prevention, monitoring, and eradication of aquatic invasive species as a priority. The use of the CD3 unit is not a substitute for a hot-water, high-pressure decontamination station typically operated by boat stewards, but this new technology provides what we hope is an acceptable alternative for when stewards are not on hand, as workforce and housing issues are having an impact on our municipalities ability to staff boat inspection stations. Hopefully, the CD3 unit will provide boaters with an opportunity to decontaminate their boat when boat launches are unstaffed in the early morning and evening hours. The pilot project is intended to evaluate whether or not our municipalities and partner organizations should incorporate the CD3 unit into our current suite of AIS management options."
The CD3 project is funded by the New York State Department of State under Title 11 of the Environmental Protection Fund, and is part of a broad program to address invasive species in Schroon Lake, which will include additional harvesting of Eurasian milfoil and outreach by lake stewards.
Note: Photo attached of CD3 unit as it arrived to Warren County DPW earlier this year.