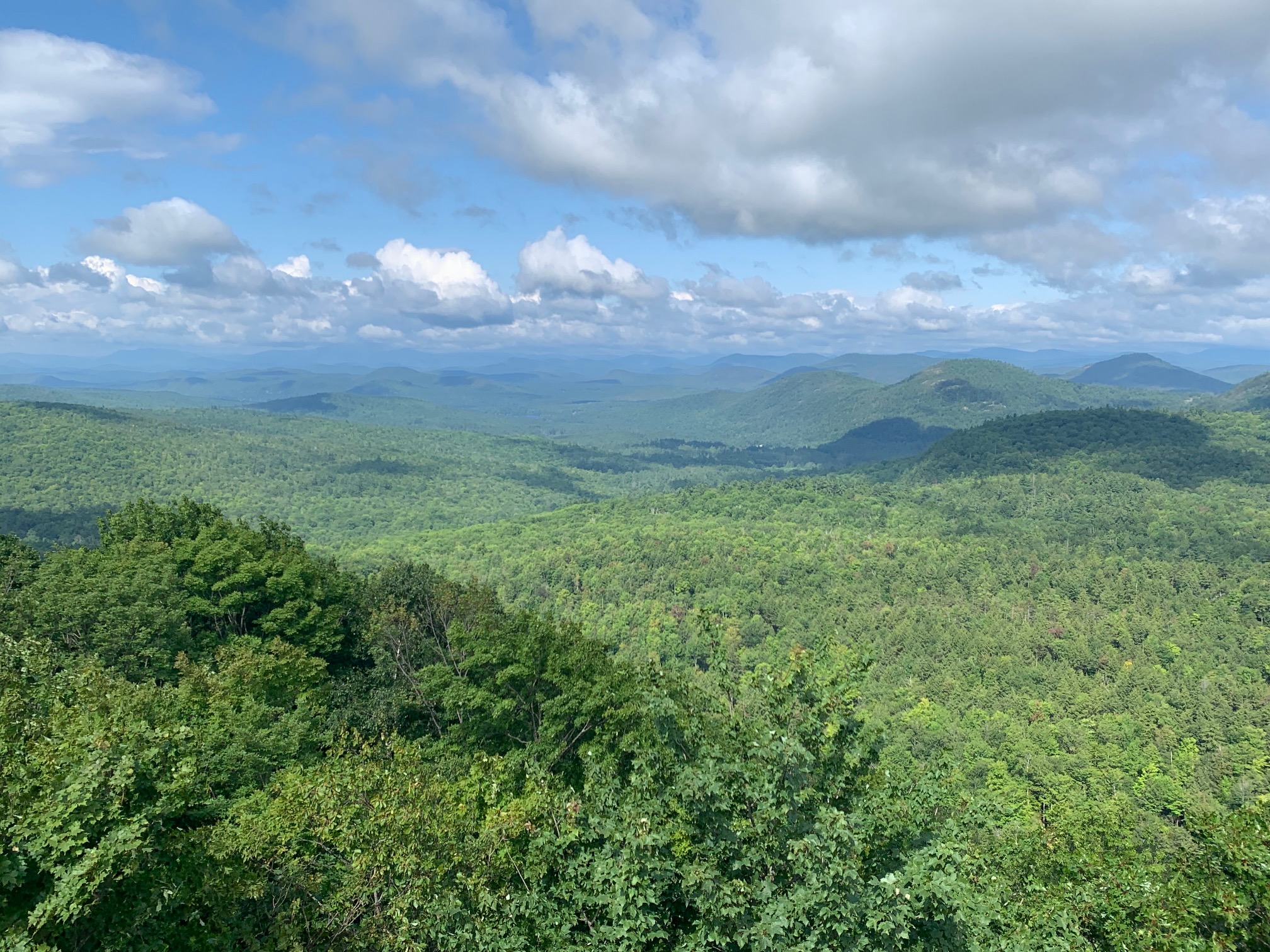 Swede Mtn. Fire Tower Trail open to public
Warren County's newest hiking trail offers spectacular views
It's time for a walk on Warren County's newest hiking trail, a trail with fabulous views from a 47-foot tall fire tower!
The town of Hague in Warren County is home to a new trail and publicly accessible fire tower on Swede Mountain, a nice jaunt through woods and fields that ends with miles of views of mountains and waterways to the west and north.
The tower sits about 11 miles east of the hamlet of Brant Lake, and 5.5 miles west of the hamlet of Hague.
Warren County owns the fire tower and a parcel of land around it, and the county has an agreement with a landowner to have the trail cross private property to get to the summit.
(Please Note: A portion of the private land the trail crosses is leased by a hunting club, so the entire trail and the tower will be closed and inaccessible each year from September 10th through December 16th.)
The tower was taken out of service for fire watch purposes by New York State in 1968, and was purchased by Warren County in 1995 for use as a site for radio communication equipment. That communications plan was later reconfigured and the site not used.
The fire tower was rehabilitated this spring and summer by Warren County Parks and Recreation Department and Public Works staff, and a trail was cut from Route 8, starting at North Pond. A New York State highway rest area at the trailhead provides parking for about 15 vehicles.
The trail is a relatively easy walk, 1.8 miles round trip, with about 240 feet of elevation gain. Other than a stream crossing and steep dirt embankment at the beginning of the hike, the majority of the trail is a gradual uphill climb.
The re-opening is exciting for the town of Hague, where the tower was a local attraction years ago, Hague Town Supervisor Edna Frasier explained.
"For me this tends to be nostalgic," Frasier explained. "The memories I have of my brothers and sisters hiking up to the tower, climbing the tower and exploring the area are still vivid. It is exciting to know that others can now experience this."
Warren County Parks and Recreation Department crews battled the elements this summer to get the work done, dealing with frequent rain and deep mud that hindered the ability to get equipment to the site. Virtually all of the wood stairs and tower floor had to be replaced.
"We are very proud of how this project turned out. It involved a lot of work under some difficult circumstances," noted Kevin Hajos, Warren County Public Works Superintendent.
For more information on this trail and other recreational opportunities in Warren County visit our Warren County Rec Mapper website at warrencountyny.gov/recmapper. Swede Mountain is trail #55 on the Rec Mapper site.
Adirondack Mountain Club plans to add this hike to its "ADK Fire Tower Challenge."
Warren County would like to thank Lyme Timber Company, New York State and the volunteers who helped Parks and Rec staff with trail fine tuning.
Swede Mountain facts:
Mountain: 1,904-foot-high summit.
Fire tower:  47 feet high, 7 flights of wooden stairs.
Location: Trailhead is off New York State Route 8 between Brant Lake and the hamlet of Hague.
Parking: Limited at a New York State rest area off the eastbound side of Route 8, GPS Coordinates -- N 43° 44' 33.009"   W 73° 35' 17.749"