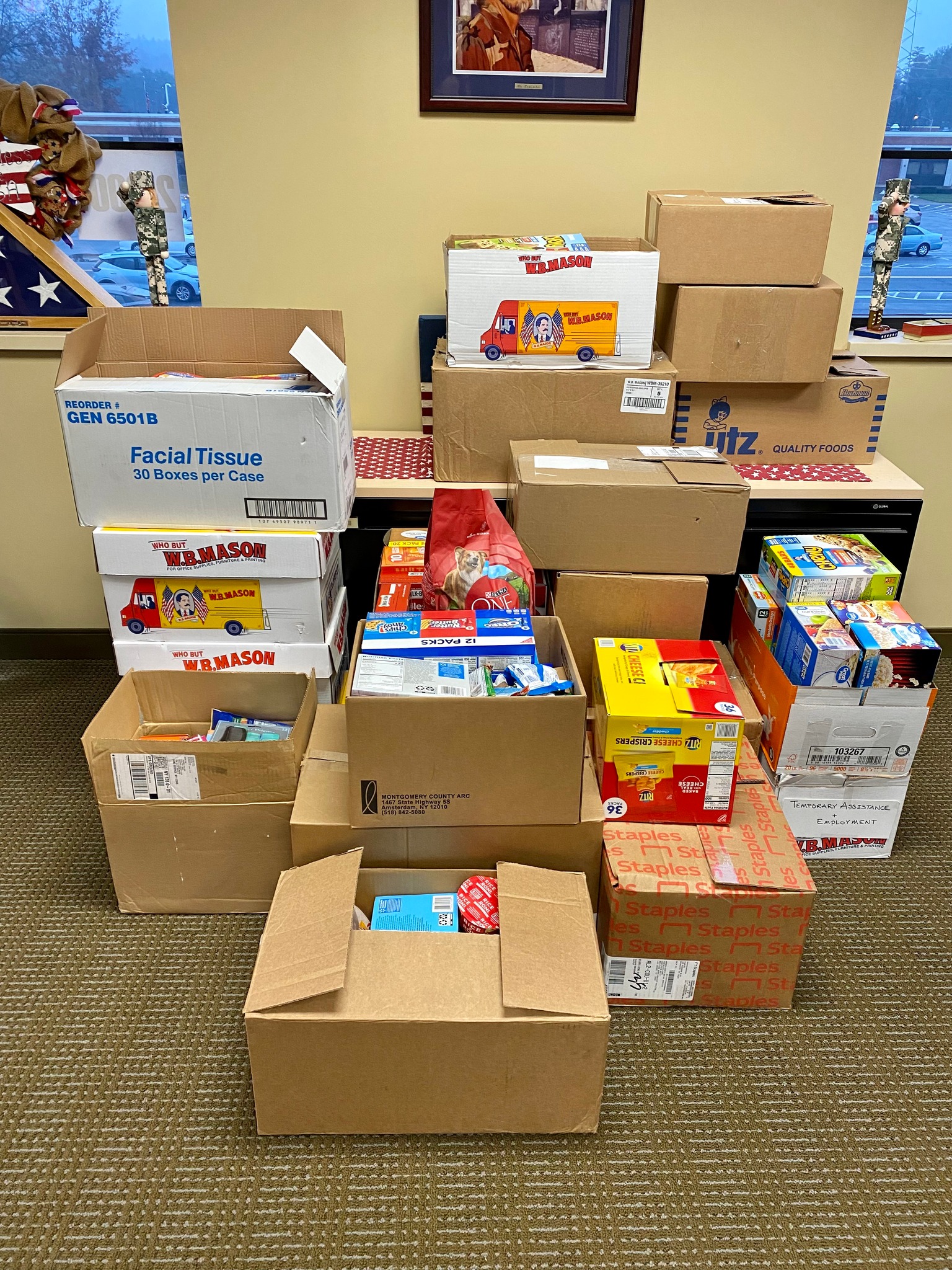 Our local soldiers who are stationed overseas will receive 32 holiday care packages thanks to the benevolence of Warren County employees and members of our community.
Care packages filled with goodies and personal care items donated by Warren County staffers and Warren County residents were sent out this week to servicemen and women who hail from our area.
The items, along with monetary donations, were collected by Warren County Veterans' Services throughout October, and packaged last week to be sent through the region's "You Are Not Alone Troop Support Group" supported by Warren County Veterans Services.
Among the items that were donated were hand/toe warmers, holiday-themed candies, and other items requested by our troops. The packages were topped off with a Santa hat, candy canes and a miniature Christmas tree.
The support of our community and county personnel grows each year, noted Denise DiResta, Director of Warren County Veterans Services.
"This event is successful because of our Warren County co-workers, friends and family of Warren County Veterans' Services. Each year I am overcome with emotion by your generosity," DiResta said. "Our soldiers will all definitely be smiling when they open their packages in around 7-10 days."
Said Bennet Driscoll, Glens Falls 5th Ward Supervisor and Chairman of the Warren County Human Services Committee: "Again this year, Warren County employees were proud to participate in the You Are Not Alone Troop Support Group program to serve the brave men and women who serve us. Thank you to all who helped out with this program to help our servicemen and women make the best of the holidays while away from their homes and families."
Also pitching in for the effort were Bolton Landing Senior Citizens and Warrensburg High Junior/Senior Honor Society members.
The effort coordinated by Warren County Veterans Services supplements the "You Are Not Alone Troop Support Group" operated through Veterans of Foreign Wars Post 6196 in Queensbury, the only group in Warren County sending packages on a monthly basis, for numerous years, to soldiers serving overseas from our area.
To donate to You Are Not Alone or to arrange for a soldier to receive a care package, contact Rob McAvoy at the VFW at 518.338.8758.