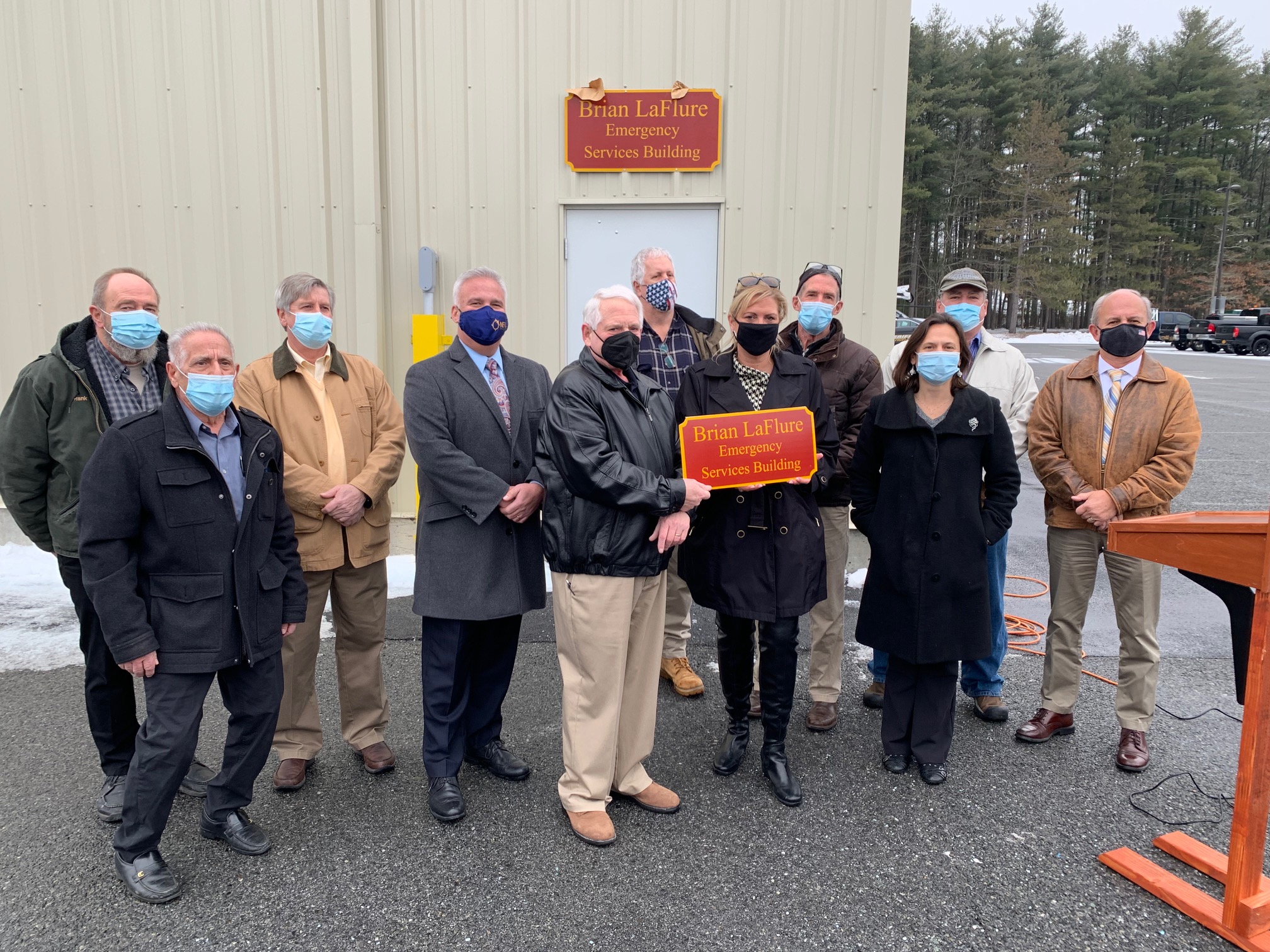 Warren County names building after former Emergency Services Director Brian LaFlure
QUEENSBURY – Brian LaFlure had planned to retire as Warren County Director of Emergency Services in early 2020.
But then COVID-19 pandemic came along, and rather than leaving the county for which he worked for 40 years at a time when his experience and knowledge was needed, LaFlure put his county and colleagues ahead of himself.
LaFlure eventually called it a career in January 2021, after the completion of a six-bay garage to safeguard Warren County Office of Emergency Services equipment for response to disasters, hazardous materials spills and other emergencies.
The $400,000 project involved a complicated, years-long process that occurred after searches around the county for proper space to house the vehicles and trailers.
Warren County eventually sold a piece of property on Warren Street in Queensbury, where some of the OES vehicles had been stored, for $400,000, and that funding was designated to pay for the new building centrally located at Warren County Municipal Center.
LaFlure's dedication to his job (he also served as county fire coordinator for 12 years) and this project have not gone unnoticed by county legislators and his former colleagues.
The Warren County Board of Supervisors passed a resolution at its December 17th meeting to name the building after LaFlure for his "dedicated service" to Warren County and "tireless advocacy" for the building project.
A building dedication ceremony naming the facility for LaFlure was held Wednesday, December 29th.
"I'm very thankful for this recognition from the Board of Supervisors," LaFlure said. "I'm also very thankful for the help that I had with this project, from the Board of Supervisors, Warren County Department of Public Works, and others. This project involved a lot of people and I'm glad we were able to get it done to properly protect the Office of Emergency Services' equipment."
Said Rachel Seeber, Chairwoman of the Warren County Board of Supervisors: "Brian LaFlure's dedication to public service has been unmatched for nearly five decades. Between his service to the people of Warren County and his service to Queensbury Central Fire Company, he has worked tirelessly on behalf of our community, many times 7 days a week, at all hours. It's fitting that our Emergency Services building, for which he fiercely advocated, will carry his name going forward, and that his contributions to Warren County will forever be a part of our local government history."
The Brian LaFlure Building will now carry a sign, produced by the DPW, bearing his name.
###