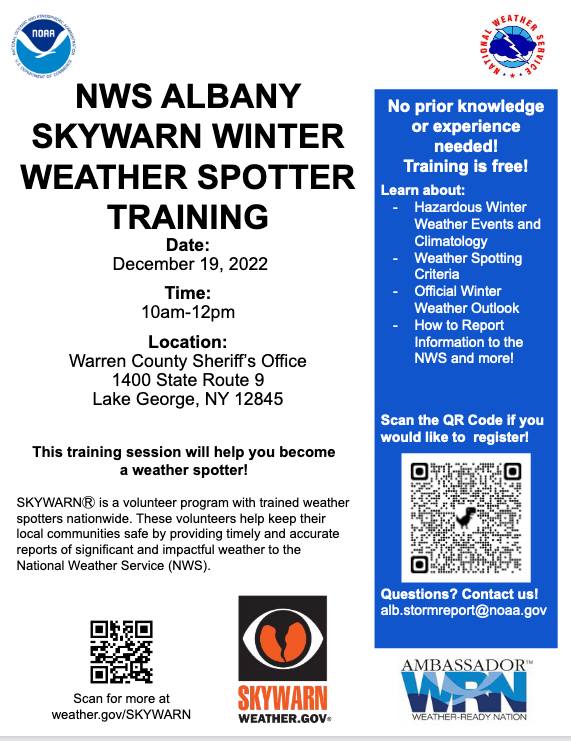 Warren County to host SKYWARN weather training December 19
WARREN COUNTY, NY -- Are you fascinated by the weather, and want to help local emergency responders?
If so, Warren and Washington counties have organized a free weather training session with National Weather Service personnel that might interest you while also improving our local network of weather spotters.
Warren County will host a December 19th session to train residents as SKYWARN weather spotters. SKYWARN volunteers help keep their local communities safe by providing timely and accurate reports of significant and impactful weather to the National Weather Service. Warren County Office of Emergency Services and Washington County Department of Public Safety are co-sponsoring the training.
Participants will learn about hazardous weather events, weather spotting criteria, updated winter weather outlook, how to make formal weather reports and more.
Said Ann Marie Mason, Warren County Director of Emergency Services: "SKYWARN is an important program to assist our emergency responders and weather forecasters to make sure they have accurate and up-to-date information as storms affect our county. The training is informative and worthwhile for those who want to learn more about weather or want to help keep our emergency services personnel informed about weather conditions around Warren County."
Said Tim Hardy, Washington County Deputy Director of Public Safety: "SKYWARN Spotter training is beneficial to our emergency management operations and other key partners throughout the county, ensuring we have trained spotters to relay that information to our team members for early identification of key weather observations, and data to help us identify issues and patterns. It also helps us in making decisions on how and where to deploy personnel and resources."
The training will be held from 10 a.m. to 12 p.m. December 19th at Warren County Sheriff's Office, 1400 Route 9, Queensbury. This link can be used for registration.
The attached flyer includes more details and a QR code for registration as well.
Those with questions can log on to weather.gov/skywarn or email alb.stormreport@noaa.gov.
###