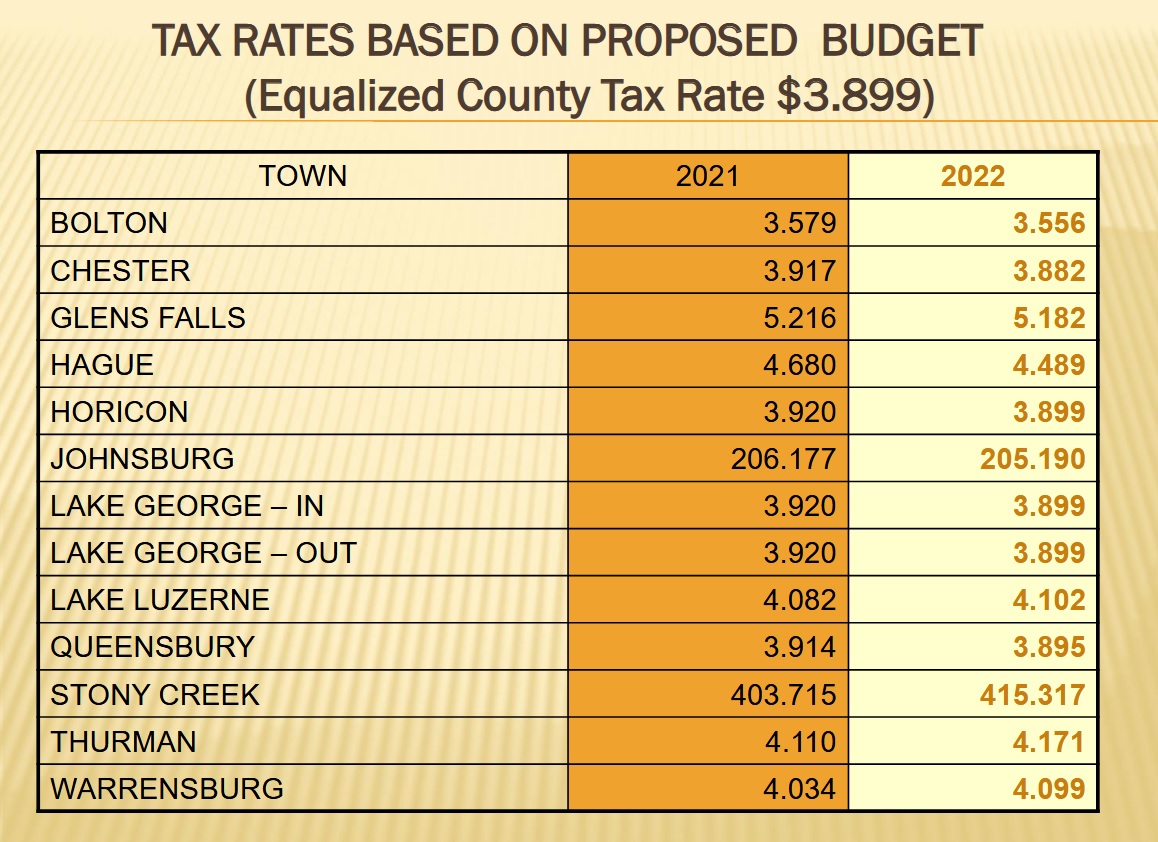 WARREN COUNTY, N.Y. – The Warren County Board of Supervisors has approved a $173.3 million budget for 2022 that will bring a property tax decrease for most property owners in Warren County.
The tentative budget includes a property tax rate that will decrease for the second straight year, while also bringing significant new investments in county infrastructure, public safety and environmental protection.
The budget, which passed with a unanimous vote among supervisors present at the November 19th Board of Supervisors meeting, will result in a countywide property tax rate that will decline by two cents to $3.899 per $1,000 in assessed value. (Rates per municipality will vary based on individual equalization rates).
"We are proud to put together a budget that will bring a tax rate decrease for the second year in a row, particularly during uncertain economic times," said Doug Beaty, Queensbury at-Large Supervisor and Chairman of the Warren County Board of Supervisors Finance Committee. "Our duties as stewards of Warren County tax dollars are a priority, and this budget reflects that stewardship while also making significant investments in Warren County's infrastructure and public safety for the future."
"This budget makes strategic investments in Warren County's future while providing tax relief for the second year in a row. It reflects our commitment to providing excellent services in a cost-effective manner, guided by the principle that county funds belong to our taxpayers and not to the county government," noted Warren County Administrator Ryan Moore.
Highlights from the budget include:
$10.5 million for road paving and improvements on Warren County's 250 miles of county roads, compared to $3.25 million in 2021.

Four new road patrol officer positions for the Warren County Sheriff's Office.

New resources to improve county cybersecurity and Information Technology resources

Additional funding for senior meals program.

Additional personnel for the District Attorney's Office, Veterans Services and Planning Department.

New funding for recycling/waste reduction programs.
The overall tax levy will increase $678,000, which is well below the New York State tax cap that allowed an increase of up to $1.76 million. A person with a home assessed at $200,000 will pay about $4 less in county property taxes.
"The reduced tax rate and effort to stay well below the tax cap reflect sensitivity to the economic toll of COVID-19 on our taxpayers," explained Frank Thomas, Stony Creek Supervisor and Warren County Budget Officer.
No funding from the 2021 American Rescue Plan Act was earmarked into the 2022 budget. The Board of Supervisors is holding public meetings in the coming weeks to decide use of this funding.
A copy of the budget and prior budgets can be found online here on the Warren County website. A chart of proposed tax rates by municipalities is attached to this press release.
###