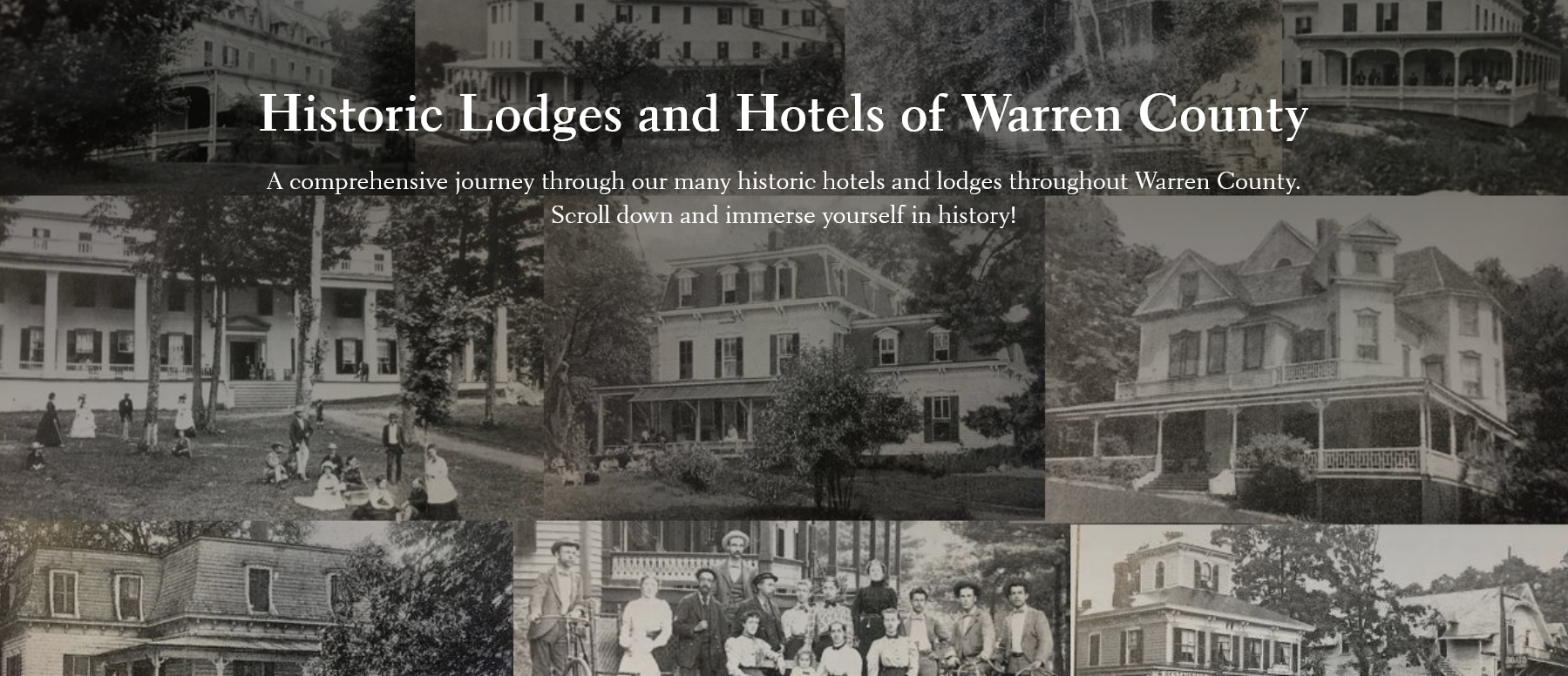 New website chronicles history of Warren County lodging
Interactive site created by Warren County Planning
Warren County has long been a destination for those from more populated areas, the burgeoning railroad industry and the bounties of the woods and waters drawing them by the thousands beginning in the early 1800s.
At the center of the services for these visitors were the early lodges and hotels that provided not only a place for them to get a meal and rest their heads, but served as a focal point of early communities as well.
Warren County's documented history of lodges and hotels dates back to the early 1800s, when the region's vast timber resources and cold, clean lakes began attracting visitors from downstate.
A new project put together by Warren County Planning & Community Development chronicles these businesses' growth, detailing their location and development as well as the role they played as Warren County grew and began to prosper.
"Historic Lodges and Hotels of Warren County" offers an in-depth, interactive collection of information that includes maps and photos of the accommodations that popped up across the county from Glens Falls to Lake George, North Creek to Sabbath Day Point in Hague.
This project is the second Warren County history-themed website created by Warren County Planning in recent years. In 2019, the department released the Warren County History & Culture Mapper, and in light of positive feedback, focused on this new history project.
"With these websites, our goal is to really make you want to read and learn more about the history of this beautiful place we get to call home," Warren County Junior Planner Amanda Beck, the project's creator, explained.
"This new project by our incredibly creative Warren County Planning Department celebrates the depth of Warren County's history as a preeminent tourism destination," said Johnsburg Supervisor Andrea Hogan, Chairwoman of the Warren County Board of Supervisors Economic Growth & Development Committee.
The Historic Lodges and Hotels website starts with the story of Abraham Wing's arrival in Glens Falls, where he opened Wing's Tavern, what is known to be the first tavern/inn in the area. From there, it goes all the way to the mid-20th Century, detailing how some of these businesses, such as The Queensbury Hotel in Glens Falls and Ashes Hotel in Warrensburg, remain in operation today.
Some neat facts from the website:
Most of the lodging in the early days was either boarding houses for workers on the railroad or for guests taking advantage of hunting and fishing in the Adirondacks.

It was the mid-19th century when many hotels sprang up along lakes for visitors from New York City for vacations.

Wing's Tavern, the first known lodge in Warren County, had three different names before it was destroyed by The Great Fire of 1864.
Beck said Warren County Historian Dr. Stan Cianfarano and each of the county's town historians were integral in providing research and content for the site.
To view the site in its entirety, click here.