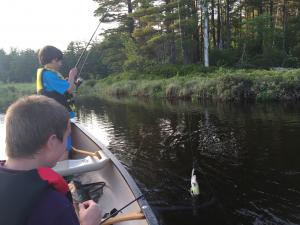 The Warren County SWCD sells fish (trout, bass & minnows) to interested pond owners in Warren County. We purchase these fish from a private fish hatchery in central New York. This program helps local pond owners stock their ponds. 

The district offers the program in the spring and fall. Please check back in for updates. 

The District's pond stocking program is on a pre-order basis. Also, if you currently do not have a stocking permit, you can obtain one at no cost from the DEC by going to their web site and completing it.

If you have any questions related to pond stocking, species selection, or stocking rates, please feel free to contact our office at any time. (518) 623-3119 or dmoore123@nycap.rr.com.