Upcoming Events
Event
Date/Time
Location
July Board Meeting
July 27 1:00 PM
Online
Health Soils Webinar
July 30th 5:00-6:30PM
Online
---
Important Notice
We are closed to the public and staff are limited in the in-office time and staff are working at home. Please leave messages at 518.623.3119 or go to the District's contact page for email addresses.
---
Healthy Soils Webinar
As part of our National Association of Conservation District Urban Agriculture Grant, we are excited to announce that we will be hosting an online workshop to discuss some of the conservation practices we have been demonstrating at the Warrensburg Community Garden. The workshop will be held from 5:00pm to 6:30pm on July 30th and will be hosted through zoom. For questions, contact Maren Alexander at marenalexander@nycap.rr.com.

Read More
---
July Board Meeting
Due to the current COVID-19 situation the Warren County SWCD is conducting its monthly meeting on July 27, 2020 starting at 1:00 PM via videoconference.

If you would like to join the meeting, please follow these instructions.
---
Erosion, Sediment Control and Stormwater Training
The Warren County SWCD is hosting a series of 4 Hour NYS DEC Endorsed Erosion and Sediment Control trainings via Zoom. This covers the trained individual requirement from the NYSDEC Stormwater General Permit for construction, and the attendee's certificate is valid for three years.

Attached is a flyer with the information and a registration form . Please note that you will need to call our office to register and select the date for your training.
 
---
2019-2020 Warren County Municipal Seperate Storm Sewer System (Ms4) Annual Report
Here is the 2019-2020 Warren County Municipal Separate Storm Sewer System Annual Report.
---
Conservationist of the Year—Steve Lovering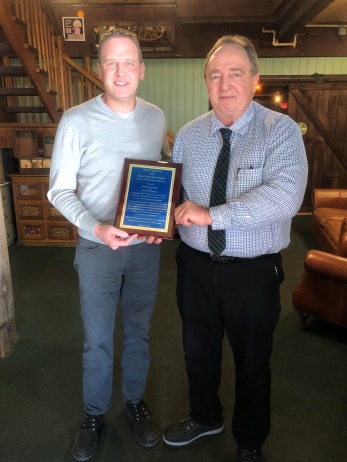 In 2019 the District recognized Steve Lovering, Director of the Queensbury Parks and Recreation (QPR), as its Conservationist of the Year. For many years, Steve has provided enthusiasm and support to a variety of joint QPR-District projects and programs in the town. The District has worked with the QPR on Halfway Brook (proper), Hovey Park, Gurney Lane, Hudson Point Nature Preserve, Hudson River Park, Glen Lake Boat Launch, Meadowbrook Preserve and Rush Pond Trail. The projects are varied and include invasive species control, habitat improvement, trail establishment, water quality improvements, and trailside education.

Steve understands the importance of local lakes, streams and other natural resources and works with the District for project ideas and the implementation of projects for protection of these critical features. He requests assistance with planning and implementation for a variety of projects including trails, habitat improvement, environmental education, and water quality. The District believes that Steve's willingness, his foresight when it comes to conservation projects and his support of resource protection is absolutely essential for the long-term sustainability and improvement of our local natural resources.
 
---
Ronald Montesi Conservation Recognition Awards
This award is given to an active member of locally-led conservation projects with the District and has gone above and beyond to protect natural resources of Warren County. 2019's award recipients:

Community, Work & Independence (CWI Team) has worked with us for the last two years to bring over 40 volunteers out three times each summer to sample stormwater outfalls, install storm drain markers and participate in stream cleanups. Halfway Brook has never been so clean!



Teresa Whalen of Adirondack Harvest has played an active roll not only within her community but with her participation and willingness to work with the District on promoting agriculture in Warren County. Teresa puts her best foot forward to get conservation projects done!


Leon Steves has worked with the District on projects which include Queensbury Land Conservancy (QLC) trails and the Town's MS4 program. Leon reaches out to the District for advice to minimize impacts for QLC projects and requests permit assistance.he also can be counted on to assist with the yearly Halfway Brook Stream cleanup!
---
2019 Annual Report
A brief summary of some of the many projects and programs undertaken by your local Conservation District in 2019.
---
Celebrate Arbor Day with the District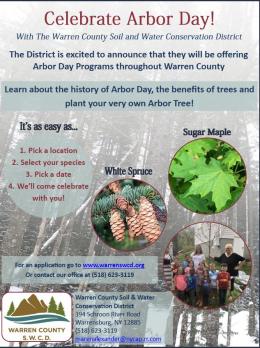 The District is offering Arbor Day celebrations throughout Warren County this May. Join us to learn about the history of Arbor Day, the importance of trees, and plant your choice of a sugar maple or white spruce! Applications are due by April 17th, 2020. If you are not able to host an Arbor Day but are still interested in attending a celebration, contact the office for information on events in your community. For more information about this program or application, contact Maren Alexander at 518-623-3119 or by email at marenalexander@nycap.rr.com.  
---
2018-2019 MS4 Reports
The 2018-2019 Warren County MS4 Report is available here.
For questions, comments, concerns please call the Warren County MS4 Hotline - 824-8840

The 2018-2019 Queensbury MS4 Report is available here.
For questions, comments, concerns please call the Town of Queensbury MS4 Hotline - 761-8212
 
---
Conservationist of the Year - Tom Girard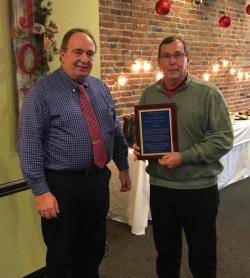 Being the Glens Falls Water and Sewer Field Operations Manager, installing stormwater green infrastructure projects is (was) not part of Tom's daily routine. Tom was asked by the City to install several smaller green infrastructure projects as part of the City's NYSDEC Water Quality Improvement Program grant to save funding and provide matching grant funds.

What started as a few projects quickly turned into five larger projects and Tom was there every step of the way to get the projects planned and installed. He even agreed to a new type of porous sidewalk project that was not yet utilized in our area, and it was a learning curve for all partners involved. Working with Tom and his crew the past few years on stormwater projects has been enjoyable and entertaining. He and his crew are always ready to get digging on conservation projects and appear to enjoy working outside of their required department work (as well as their comfort zone). On top of everything, these five projects were installed in only two construction seasons. This team is full of great attitudes and makes even the coldest, rainiest, muddiest projects full of good times and great outcomes.  
 
---
Remarkable Trees in Warren County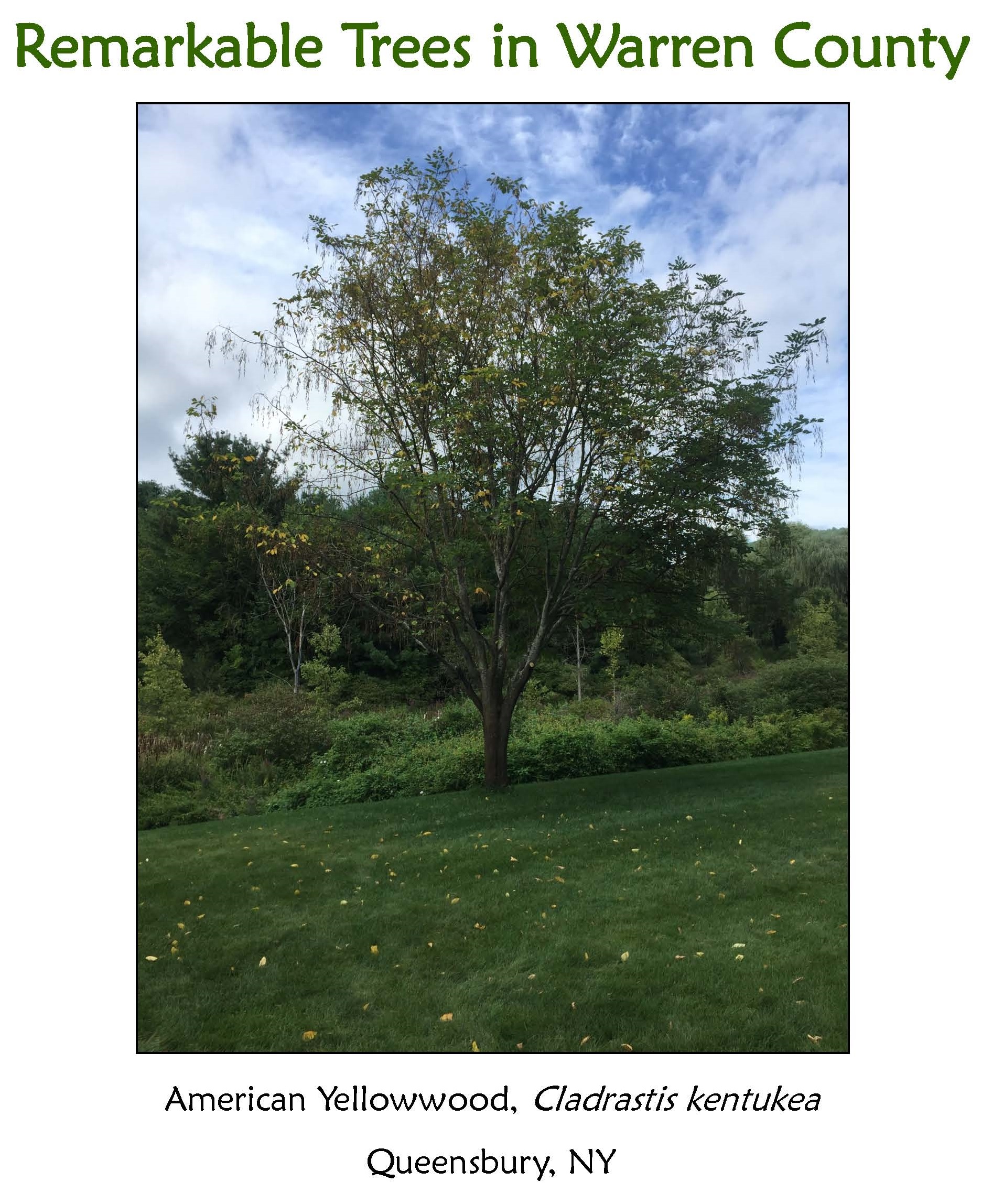 Many people recognize the commercial and recreational values of trees, but did you know that they also prevent soil erosion, increase ecological benefits, such as providing habitat for wildlife and help to reduce stormwater runoff in urban situations? 

The Warren County Soil and Water Conservation District is looking to find what you think is an interesting tree - age, height, girth, historic, unique species, ….. 

If you're interested in identifying a significant tree or simply visiting what others found, then check out the remarkable trees application for Warren County. 

Click this link: Remarkable Trees and login as a guest. 

Feel free contact our office if you have any questions about using the App or species identification! Phone: 518.623.3119 or Email: Maren Alexander at marenalexander@nycap.rr.com 
 
---
Spotted Lanternfly – Pest Alert!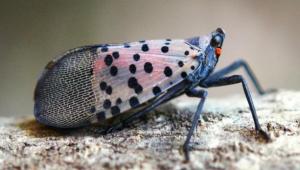 Spotted Lanternfly, Lycorma delicatula, is an invasive pest from Asia. It was first found in Pennsylvania in 2014 and was recently detected in Albany and Yates counties. This species primarily feeds on tree of heaven, but also feeds on several other fruit trees and hardwood species. Nymphs and adults damage trees by sucking sap from stems and leaves. By removing the sap, they can severely reduce the rate of photosynthesis and eventually lead to a tree's death. The establishment of spotted lantern fly in New York would greatly affect apple, grape and other agricultural markets. If you found spotted lantern flies, contact the NYSDEC Lands and Forests Department immediately. Click the links to find information about distribution, damage, lifecycle, and where to look for spotted lantern flies. Photo taken from https://entomologytoday.org 

NYSDEC Spotted Lanternfly

USDA Spotted Lanternfly

NYimapinvasives
---
Insect, Plant, and Plant Disease Identification at the Diagnostic Lab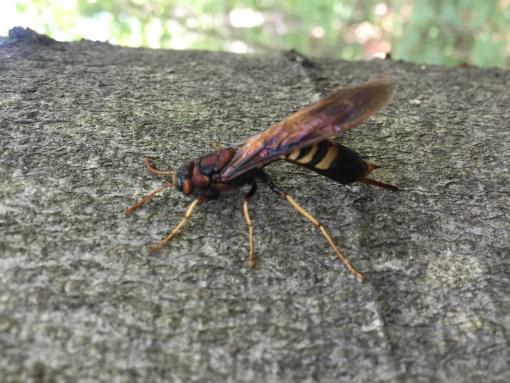 The NYSDEC forest health program offers a free service to residents to send in photos or samples of insects, plants, and plant diseases that they need identified. Information about submission forms and handling instructions can be found at the website listed below. 

https://www.dec.ny.gov/lands/79716.html 
 
---
2016 Hazard Mitigation Plan
The 2016 Warren County Hazard Mitigation Plan is now available for Download!
---
Eurasian Watermilfoil Identification
 
This video was taken in Schroon Lake to show the difference between the highly invasive Eurasian Watermilfoil (Myriophyllum spicatum) and the native Northern Watermilfoil (Myriophyllum sibiricum). What this video also demonstrates is all the hard work and funding that has gone into Schroon Lake to remove the invasive Eurasian Watermilfoil and keep it at a very limited and manageable population throughout the lake. The video shows very few, young, single stem Eurasian Watermilfoil plants scattered amongst lush native aquatic vegetation. Schroon Lake is a great example of what years of team work and hard work can accomplish in the battle against invasive species.  

- If you pause the video at 00:47 you will notice the native Northern Watermilfoil on the left and the invasive Eurasian Watermilfoil on the right.
- We then swim through some native eelgrass and at 01:06 is another single stem Eurasian Watermilfoil in the center of the screen.
- As we continue to swim through beautiful Schroon Lake, at 01:34 is another single stem young Eurasian Watermilfoil plant in the foreground center of the screen.
- 02:02 you will see another single stem Eurasian Watermilfoil plant.


We hope this video is helpful and informative and we encourage the community to continue to learn the identification of aquatic invasive species so you can help survey your favorite lake from above or below!
---
New York State Prohibited Plants
In September of 2014 the NYSDEC and the NYS Department of Ag and Markets enacted invasive species regulation that affects terrestrial and aquatic plants.
Please take a moment to download this information, as it may affect you or your municipality.
---
Rural Roads Active Management Program (RRAMP)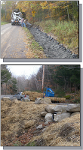 Utilizing funding provided by the Lake Champlain Basin Program (LCBP), CWICNY, the County Soil and Water Conservation Districts, and municipal/County DPW's throughout the watershed are finalizing a new roadside protection program that will provide guidance and assistance to municipalities when facing challenges with secondary roads. This program, named the Rural Roads Active Management Program, or RRAMP, encourages the use of best management practices to increase resiliency of infrastructure, reduce erosion, protect natural resources, and save time and money. This is being achieved through a multi-faceted effort, which includes the initial planning for a system that would allow local municipalities and private landowners to obtain funding for projects, much like the Vermont Better Back Roads Program, and also through the creation and production of two educational guides for local municipalities, the Rural Roads Best Management Practices Manual and the Rural Roads Active Management Program Field Guide. These documents outline the proper methods for stabilizing an restructuring roadside ditches, and provide references for policy creation and municipal planning for roadside efforts.
---
Historical Aerial Images
We are happy to announce the development of an interactive on-line portal for the public to be able to access the county's historic aerial imagery from their home or business. Several years ago we began scanning in our imagery (1948, 1966, 1982 and 1990) to have them on our computers. However with the change in technology we felt that there was an opportunity to have this information active for the public on the web. The Town of Queensbury and the Warren County GIS Departments have been exceptionally helpful as partners in order to succeed. In essence, you will be able to access the website and view a current image such as a Google Map and compare it with any of the historic images. It will not overlay on top of the new image, but you will be able to toggle between the images to compare them. You will not need any special software, just click here. Please contact us with any questions.
These pictures represent projects that the District has worked on in